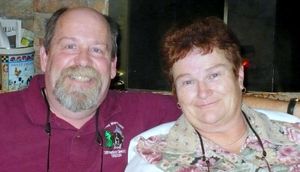 Welcome to the website of Blue Collar St. Bernards.  Why the name Blue Collar?  When we were trying to come up with a kennel name we thought about just what St. Bernards are in order to help us come up with a name.  We decided that a St. Bernard was a working dog, smart and strong, and nothing fluffy about them, just "down to earth, honest to goodness dogs", sort of like blue collar workers, and thus the name.

We are small hobby kennel located just north of Minneapolis, in Andover, MN. We have owned and loved St. Bernards since the early 1980's but didn't acquire our first show dog until 1990.  Since then we have had 18+ litters and produced 20+ breed champions. We have also shown several dogs That we purchased from other kennels to their breed championships.  Along with looking good, it is very important to us that our dogs have the "Saintly" temperment that is so necessary for a dog of this size, and the ability and intelligence to work.  

We also show our dogs in obedience, and had the number one Saint in obedience in 1992 (Hiltzbury's Tasha Baby, DD, CDX, Can. CD, TT, CGC). We also do weight pulling with our dogs and have taken most weight pulled, or highest percentage on several ocassions at the St. Bernard National Dog Show.  In our "spare" time we participate in rally obedience, and drafting.  It is our goal to produce quality, not quantity, dogs that can be all that you want them to be.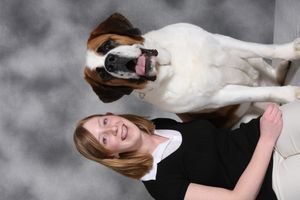 Our site would not be complete if I didn't introduce you to the third member of "Team Blue Collar".  Sabrina Griebel started working with us when she was in high school, all through college.  Sabrina is an important member of the team.
     When Sabrina joined us she had never even owned a dog, and in just a few short years she has put numerous titles on our dogs. She has titled in everything from weight pull, conformation, obedience, and rally obedience. In 2012 she even whelped her first litter.  We couldn't do it without her, and we are so very proud of all that she has learned over the years.
     Sabrina now co-owns our Labrador Retriever, Taylor, with Tim, and has put several weight pull titles on her as well as both an AKC and UKC CD's, and an RN on her. Sabrina is a rising star in the dog world, watch for her as her abilities grow and develop. Thank you Sabrina we couldn't do it without you! 
Saint Bernard Club of America (S.B.C.A.)          www.sbca.org

The Greater Twin Cities St. Bernard Club (G.T.C.S.B.C.)          www.tcsaintbernardclub.com

Anoka County MN Kennel Club

Minnesota Weight Pull Group - Visit us on facebook