TEMPO AND KC are the proud parents of 3 bouncing babies.  They had 2 boys and one girl, one long haired boy and one short haired boy and girl. The were born by C-section on July 5, 2014.
Tempo's "P" Litter 7/5/2014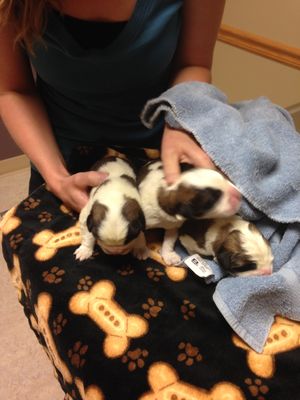 3/17/2012
TEMPO PULLS 3,150 LBS
3/18/2012
TEMPO PULLS 2,960 LBS
NOT TO BAD FOR A LITTLE GIRL
WHO ONLY WAYS 116LBS HER SELF!
U-CH SHADOW MTN RHAPSODY IN BLUE, WPS, U-WP  aka "Tempo" called that because she moves to her own beat. Came to us from Shadow Mtn Kennels in Oregon. She is happiest when she is with the people she loves, Tim, myself and Sabrina, with her stuffed Mickey Mouse or turtle in her mouth. She figures since she is name after music she should make it by barking, but she gets scolded, so the answer to that is to get a stuffed toy in her mouth to muffle the bark so she won't get scolded..like I said she moves to her own beat.

Tempo has been very slow to mature, and at just over two has some growing yet to do. she is a skinny little thing at only 108 lbs, and being a bit of a fussy eater, doesn't help. None the less she is becoming an awsome pulling dog, and just finished her championship in the UKC so now it is on to the AKC to try for her Championship.  She will be  continuing her weight pulling career, and starting with obedience, rally obedience and drafting.

Tempo Pedigree 
CH Cedar Mtn's Saintly Montana

Holloway's Mountain Sierra

INT & GER CH Aramis von Grande

Happy Girl von der Primstadt

Jannick von den Drei Helmen

Shaw's Zeilke's Challenge

Shaw's Golden Prospect Hannah

Silverado Work o Art v Stoan

Amber Tundra v Saarlander, HF
Tempo takes UKC Group II's